One of the drawbacks of the interface aspect was that when you had pages that were different sizes it was tough to keep the footer on the bottom of the page or menus locked to the right side locked to the right.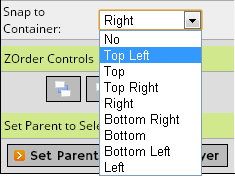 We have added a feature called "Interface Snapping" that allows you to "snap" objects to its container The container is just the object's parent.
This means you can snap objects to its parent or the page.  This is useful when you need to place a footer at the bottom of your interfaces or need to "float" objects to the right side of your interface.